Products Category
Contact info
PHS POS Steel Rod End Bearings SI..TK,SI..C,PHS,POS
PHS POS Steel Rod End Bearings SI..TK,SI..C,PHS,POS 
Rod End bearings consist of an ball-shaped head with integral shank forming a housing and a standard spherical plain bearing, or a spherical plain bearing inner ring, or a spherical plain bearing inner ring and a sliding layer between the bore of the head and the inner ring.
Normally, rod ends are available with left or right-hand female or male threads.
Rod ends from SYS bearing have the sliding contact surface combinations steel-on-steel, steel-on-bronze, steel-on-PTFE composite material, and steel-on-PTFE fabric.
Some rod end types require lubrication, and other types are maintenance free. Some types will self-lubricating, other types with a lubricating hole or grease nipple.
Besides, zinc/chrome/nickel/multicolour can be plated on its shell as customer's need.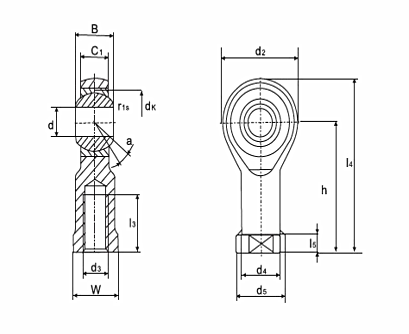 1.Quick Details
Structure:Ball Joint Rod Ends   Brand Name: SYS    Bore Size: 3-80mm      Precision Rating: Good
P/N:PHS,POS,PHS..EC,POS..EC,COS,CHS,SI..ES,SA..ES,CM,CF
Sevice: within 4 online reply                          Color: natural
Model Number: all sizes are available
2.Detailed Product Description
1. Famous brand SYS Bearing
2. over 3000varieties of Rod end bearings
3. Hot sale Gcr15 steel,stainless steel
3.Main types
1. Rod End Bearings
2. Spherical Plain Bearing
3. Hydraulic Rod ends
4. Ball joint rod ends bearing
4.Features
1.Male and Female,Left and Right hand thread, Metric and Inches sizes available
1. Self-Lubricating,High Performance, Long life
2. Resistant to dust and dirty 
3. Absolute competitive price 
4. Quick delivery, good service
5.Specifications
1.Ball:Gcr15 steel,heat treat,harened HRC 58-64;Precision ground polished
2.Body:Carbon steel,Zinc plated,Chromate treated
3.Race:Brass,PTFE composite or PTFE fabric or fiber reinforced engineering plastic
4.Liner:PTFE composite or PTFE fabric
5.Sliding contact:Steel/Brass,Steel/PTFE,Steel/Nylon,Steel/Steel
 6.Series
as a professional manufacturer for bearing products with 10 year experience, we can offer wide range of high-precision bearing products, such as male thread,female thread, self-lubricating, combination series and so on.

Metric Rod Ends Series
PHS,POS,PHSB,POSB,PHS..EC,POS..EC,PHS..HD,POS..HD,CHS,COS,NPHS,NPOS,SPHS,SPOS,,SPHS..EC,SPOS..EC
SCHS,SCOS,SI..E/SI..ES,SA..E/SA..ES,SI..C/SI..ET-2RS,SA..C/SA..ET-2RS
Commercial Series Rod Ends*American Size
CM/CF,CM-T/CF-T,SCM-T/SCF-T,CM-Y/CF-Y,CMX/CMX-T
Prescision Series Rod Ends*American Size
M/F,M-SB/F-SB,JM/JML,JF/JFL,JMX/JMXL,JFX/JFXL,RJM/RJF,RJMX-T,SJM-T,SJF-T,HJMX-T/HJMXL-T
PMX-T/PMXL-T,ALJM,ALJF,NJM/NJF,NXM/NXF,NEM/NEXF,NAM/NAF
Extra Strengh-Heavy Duty Shank *American Size
RSM/RSM-T,RSMX/RSMX-T,HRSMX-T/HIN-T,ALRSM,RRSMX-T,SRSM-T
All Plastic Polymer Rod Ends
PKF..M,PKM..M,PEM..M,PEF..M,PKF..I,PKM..I